A Database-type Approach for Progressing Action Theories with Bounded Effects, Stavros Vassos, Sebastian Sardina, In Gerhard Lakemeyer and Sheila McIlraith, editors, Knowing, Reasoning, and Acting: Essays in Honour of Hector J. Levesque, College Publications, 2011.
[pdf | citeulike | more]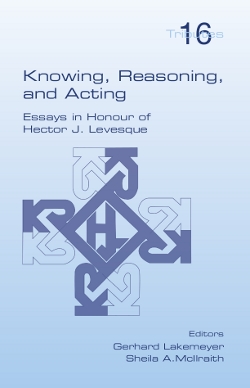 Abstract:
In this paper we study the progression of situation calculus action theories that are able to handle a class of actions that, while extremely simple conceptually and common in many settings, cannot be handled by previous approaches. Specifically, based on the notion of safe-range queries from database theory and just-in-time action histories, we present a new type of action theories that ensures that actions have bounded effects over a restricted range of objects. Such theories may represent incomplete information and can be progressed by directly updating the knowledge base in an algorithmic manner.
Bibtex:
@inbook{vassos11hectorfest,
author = {Vassos, Stavros and Sardina, Sebastian},
booktitle = {Knowing, Reasoning, and Acting: Essays in Honour of Hector J. Levesque},
editor = {Lakemeyer, Gerhard and McIlraith, Sheila},
publisher = {College Publications},
title = {A Database-type Approach for Progressing Action Theories with Bounded Effects},
year = {2011}
}